---








Biography of Ingeborg Pharsson Thomander
by Ada Beulah Anderson Madsen (Mother-Ada)
(Note: Ingeborg was actually born, Ingar Trulsdotter, the daughter of Truls Pharsson, but after coming to the United States,
became known as Ingeborg Pharsson or Pehrsson. She then married Peter Thomander and was known to her
grandaughter as Ingeborg Pharsson Thomander. This information is from Census Records in Sweden. - dlm)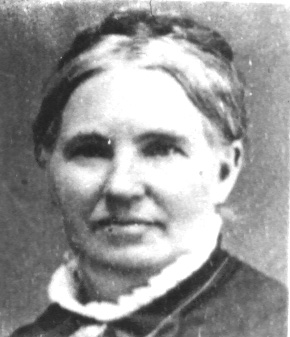 My Grandmother, Ingeborg Pharsson Thomander was the only daughter of a well-to-do family of 5 children, in Husie, Ostra Skreflinge, Sweden, a small town near Malmo a large shipping center in Malmohus Lan, or county. Her father, Truls Pharsson was a gardener and at one time had several varieties of fruit trees and a good home. Her mother Karna Larsson was a very industrious woman of many talents who taught her daughter Ingeborg to weave, sew and knit, the use of which knowledge made a lively hood for herself and children later in her life. She was born the 9th of June 1840 in Husie. The story is told of how her parents lost their home thru unfairness of supposed friends, but they managed to come to the top again thru hard work, all of her four brothers becoming well fixed in life. They were Phar Trulsson Pettersson, Lars Trulsson, Hans Trulsson Persson, and Daniel Trulsson Bergkvist.
When Ingeborg became 18 years of age she heard the Missionaries proclaim the restored gospel, and was the only member of her family to join the Church. Because of this she was told to never come home again and darken the door. The 17th of May 1858 she was baptized. The exact time of her leaving Sweden or the name of the Company with which she came to Utah, has not been found with much research, but it is know that in her 20th year, the poor ship she cam on to the United States weathered many storms and took three months to make the trip. All of the fresh water was gone, many died and most all were sick, but Ingeborg who kept well was able to help those in distress. It is not known where the ship docked, but she walked all the way to Utah from perhaps Winter Quarters. It was leaned the ship she came on sank on its return to Europe. On the way across the plains the Captain from the group, being an unfair man, caused her much trouble, he had her throw away some of her belongings, a sewing box which was her mothers and quite heavy, was one item she was sorry to part with, more than any other. The Captain was seen to put it in his own wagon.
On her way to Utah she met Peter Thomander, a son of Johan Henric Thomander, a very noted Lutheran Bishop. They were married shortly after their arrival in the valley, he also was a convert to the Church having been baptized about the same time as she. He was born 17 April 1838 in Lund, and died 21 dec. 1919 in Victor Montana. They settled in Ephraim, San Pete Co. Utah, where he tried his hand at farming. During the Black Hawk war, Peter took his family to Circleville or Circle Valley as it was then called, in Piute County, housing his wife and 2-year-old son Edward in a dug-out, their second child, my mother, was born there the 12th of June 1866, their bed, straw and leaves on the dirt floor. The Indians were very troublesome and one day some entered the dug out picking UT a butcher knife from the table. Ingeborg was the only one in the hut, she and her children, and was nearly frightened to death, they laughed and went out with but molesting her. A story is told of how her husband's life was spared from the Indians of Circle Valley. The Indians were after him but by lying on the tongue of the wagon between the horses he was not seen and escaped certain death. When her child (my mother, Martha Caroline) was 12 days old the families were forced to leave and return to Ephraim a distance of 91 miles, Ingeborg carried her baby, led the 2-year-old, drove a cow that distance, her belongings were in a wagon of a friend. Peter stayed with a few other men and guarded their property, so she was forced to live with whom ever she could, so her condition and living was very poor that following year until her husband returned and helped get his family together again.
Two more children were born to them in Ephraim, San Pete County, Utah. The first, a boy who lived to be two years, he was named Oscar Franklin and his passing away at such a tender age was difficult trial for he mother to bear. One more son was born to them whom they named Daniel Theodore, and he became a blessing to his mother's life. Shortly after this child was born to them Peter and Ingeborg separated, no one knew the details or the reasons, it may have been polygamy, or the fact Peter could not support the family in that area and she wouldn't go with him, but he moved to Montana with a second wife and raised a family there, leaving Ingeborg in Ephraim to support her three children. So her talents were put to good use and with the help of the Lord she managed to raise three fine children.
My mother told of an experience she and her older brother Edward had when she was about 12 years old. They helped build their mother a house, mother would tromp in the adobe mud to mix it well and Edward formed the bricks in a borrowed mold, it took many bricks to build just a one room house and when they were dried Ingeborg and Edward formed the walls, and put a roof on with twigs and grass and limbs and mud, it had a pole support in the middle of the room, and this they used as their Christmas tree for several years. Several years after my mother had raised her family she went to Ephraim on a visit and decided to go to see the house she helped build, and just as she got there the last remaining wall fell to the ground in a heap, she sat down and cried bitter tears in memory of the hard ships her mother and the children had to bear. Ingeborg taught her children that it was better to 'wear out than rust out": and "you can't see how long it took to do a thing, but you can see how well it was done".
Ingeborg was finally able to get a comfortable home for herself and two much can not be said of her devotion and loyality to the Church and her children, nor of her courage and hard work and faith in supporting them. In 1904 she gave up her home to live with her youngest son Daniel in Paris Idaho whose wife had passed away giving birth to her 4th child. Because of circumstances she moved back to Ephraim the following year, and later moved to Castle Dale where she passed away 14 May 1909 at the age of 69 years. Her parents or older brothers never wrote to her but her one brother just younger than she was sympathetic with her and kept her informed about her family.
---


This page and all of its contents is Copyright (C) 1997.