---








Eulogy - Vonda Jackson (Petitti) (Neff)
by Sister Lida Larkin 22 April 2002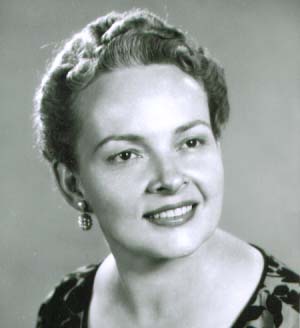 Vonda Neff was born to Joseph and Minerva Jackson in Beaver, Utah, on December 23, 1917. She had a wonderful childhood living on both a farm and in the city. Here she learned her work ethic that she carried throughout her life. She moved to Las Vegas in 1938 where she worked as a housekeeper for Cyril Wengert for a few years. She then met Jack Petitti and married him in the St. George Temple. They were the parents of 4 children: Gary, Colleen, Ronald and JoAnne. Vonda was very active in the church as she had her family. Her children were her whole life as she raised them and provided a loving home for them. She often would stay up until 1 or 2 a.m. ironing and cleaning her house and making sure it was tidy for the next day. She had a home nursery when her children became a little older.
Vonda was a wonderful cook and seamstress. She made all of her girls clothes. She also had a vegetable garden that she loved and cooked from. She had an apricot tree in her back yard and would always share her fruit with others. In fact, she loved to do for others as well. She often furnished a dish for some church function or other. She often had a quilt set up to be quilted and finished on her covered patio. When others offered to help her with it, she would gently refuse their offer and explain that she wanted to do it all herself. Of course, she gave these wonderful quilts away. She also crocheted beautifully and gave everything away that she made. She willingly crocheted 12 beautiful baskets that would hold flowers to be used as table decorations for Relief Society or for wedding receptions or luncheons. These were available for anyone who wanted to use them -- and they were used many times -- with the flowers being changed for whatever the occasion happened to be.
After 25 years of marriage she and Jack divorced. A few years later she met and married a wonderful man named James Neff. They were sealed in the temple, and they were so in love with each other. They had 8 wonderful years together before he passed away suddenly of a heart attack. She was his princess, and he treated her like a queen. He was very good to her whole family and loved her grandchildren Danielle and Misty as if they were his own. Throughout her years without Jim she often commented on how much she loved and missed him and how good he had been to her. --and how happy he had made her.
Any visitor who came to see Vonda always went away more cheered than they had arrived. She had a wonderful sweet way of raising your spirits. Though she was often in pain, she never complained and often apologized because it took her so long to get to the door. She always was cheerful and loving and made you feel special for having come to see her. She never gossiped about anyone and only had loving things to say. Her sense of humor was delightful and you always ended up laughing as you visited with her.
She would never say enough nice things about how wonderful her children were. She always commented on the wonderful care Colleen took to keep her home so welcoming after she couldn't do it all herself. She told how her son-in-law (Gary) kept her yard so neat, and how her children were always caring about her and doing special things for her. She was excited when her children from Oregon were coming to visit. Her family was all-important to her.
She loved her neighbors as well; especially the Neilsons who checked on her every day. The Marchants checked on her, too, before they moved away. How fortunate we all are that we had the opportunity to be acquainted with our wonderful Vonda Neill She was a true Christian and loved everyone. She made us all feel welcome and loved when we dropped in to see her. I see her dear sister LuAnna is here and she has the same beautiful smile Vonda had. She especially loved her home as she felt protected and loved in it. There was a special feeling in her home because of all the love she shared. You couldn't visit without feeling that loving and accepting spirit. Thank you, Vonda, for all the love you spread around -- and for the example you were to all of us being a true loving daughter of our Heavenly Father. We know you and Jim are having such a great time being together again. We miss you and look forward to the day when we can be in your company again.
Vonda passed away at her home on Wednesday, April 17th, 2002. She was love by everyone that met her and is survived by her sister, LuAnna Herrick, brothers Joseph and Lealand Jackson, her 4 children, 7 grandchildren and 8 great grandchildren. She will certainly by missed.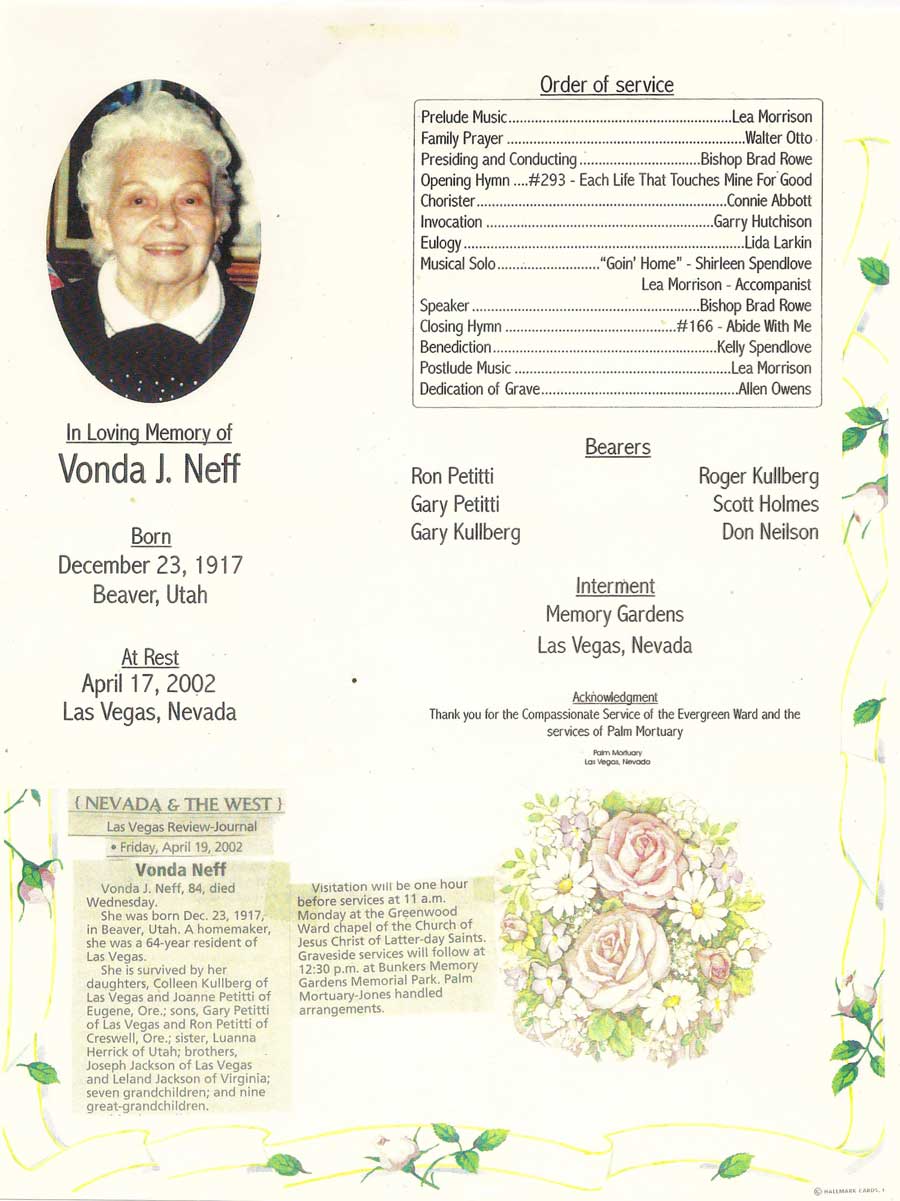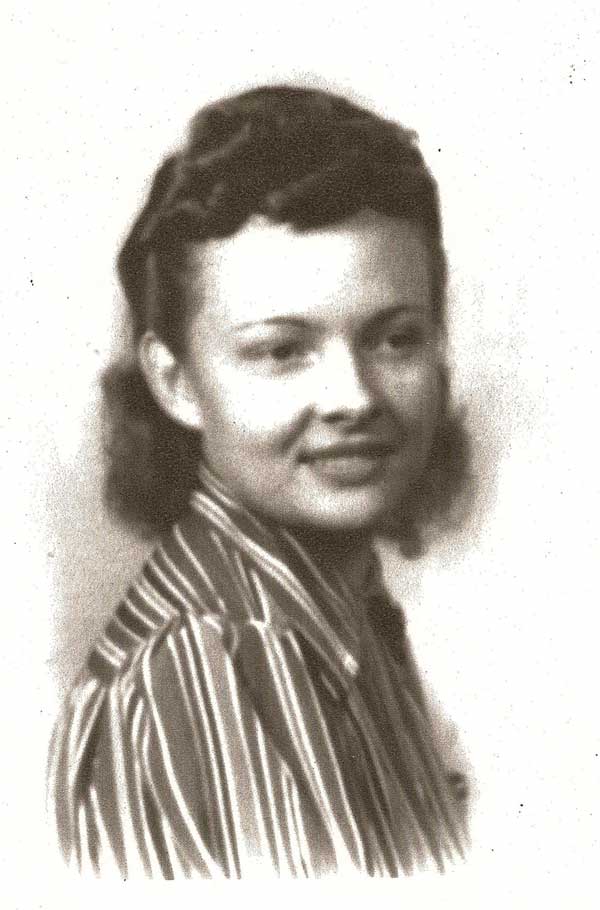 ---

This page and all of its contents is Copyright (C) 2013.