---








In Remembrance
Life History read at Funeral of Joseph Lee Jackson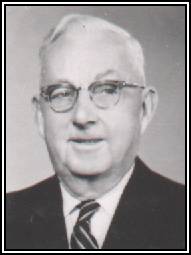 Joseph Lee Jackson
Joseph Lee Jackson was born the 25th of March, 1886 in Beaver, Beaver County, Utah. He was the fourth of five children born to Katherine Bohn and Joseph Jackson. His sisters were Hanna, Lenora, Katherine and Irene.
In a short history he wrote, he recounts that his mother died when he was six years old. "I remember the day she died. I was in the house with her alone. I ran out in the yard and told my father she was very sick." She died soon after that day.
It is interesting to me that his early remembrances of his father sound very much like his children's early remembrances of him. He mentioned the many hunting and fishing trips he went on with his father. There he learned the skills he taught his sons. My father has often talked of the enjoyable deer hunts in the Birch Creek area and Beaver Mountain. Hunting provided much of the meat for the year for the family. Some years Joseph and his family hung five or six deer in the large tree at the back of the ranch house or in the storage area of the garage in Beaver. Joseph and his sons occasionally laughed at some of the 'Out of State" hunters who came to hunt with their fancy rifles with scopes, etc. Often after taking the deer the family needed, Joseph and his sons would offer to help the Out of Staters fill their permits by shooting deer for them.
Garold reminisced about fishing trips before limits were imposed. They would take a wagon to Puffers Lake or Fish Lake. They would load layers of fish and salt into large oak barrels or smaller containers and load them clear to the top. Sometimes they would load two or three barrels that way before returning to can the fish. Aunt Bonnie (Vonda) mentioned that some of her favorite memories were the fishing vacations they took. Grandpa taught his kids to row the boat and to fish. While they were still young he would prepare a pole for them. These were always happy, laughter filled times. Garold told of learning to fish with his father in the river near the ranch. His father prepared a pole and baited a hook. Then he found a beautiful clear pool or hole where they could see the fish. Garold got so excited watching the fish that he would jerk the hook away just before the fish could bite.
Grandpa loved to hunt and fish.
Grandpa also mentioned learning to work on the farm with his father. A couple years ago while we were visiting him he talked of a race horse his father had. Grandpa helped care for him and occasionally rode him in a race.
As a young man he became involved in hauling freight often driving a four or six horse team and pulling tandem wagons. During this time he became acquainted with Lund, Nevada and a young girl named Agnes Minerva Vance. They were married in Lund in December (13th) 1919.
For a few years he farmed with his brother in law, Bill Hansen during the summer and continued to haul freight in the winter. Garold and Katheleen were born while living in Lund. When my father (Elman) joined their family, they lived on a ranch near Sunnyside, Nevada. Shortly after, in the fall of 1916, they moved to beaver, Utah.
The following spring they moved to a new ranch at Rocky Ford. Garold remembers the land as undeveloped mountain desert country. He was six when he began to help his father clear the land a build the "best farm in Beaver". His sons say he taught them how to work hard and to love work. He was a pal and an example. A constant challenge was to try to keep up with Dad. Delmar and my father were reminiscing about cutting cedar posts with grandpa which they sold for 10cents a piece. They were both strong young men in their prime and Grandpa already "aging' couldn't hope to keep up with his two sons. He had seven spotted before they found one good one. By the end of the day they each had approximately 50 poles; a good days work, Grandpa had only 70, maybe.
Grandpa's work produced an excellent dairy herd and garden and later an orchard. He raised hay, grain, corn, potatoes, apples, berries, and two acre garden full of vegetables and the best melons in the valley - watermelons, cantaloupe, honeydew, casabas and a variety of excellent mush-melons. He won so many blue ribbons at the County Fair that they eventually made him judge to give others a chance.
In July 1923, Grandpa mortgaged his ranch and bought a home in Beaver where they could live in the winter making it easier for his kids to attend school. Seven years later the mortgage became a hardship for him during the Depression.
Grandpa was baptized April 20, 1927, a convert to the church. He remembers best serving as Sunday School Superintendent and as a counselor to the Bishop in Beaver.
In 1943 Grandpa moved his family to a farm in Lakeview, Utah. I first visited them in Lake View and still remember Toby, their big shaggy farm dog. I don't know what kind of dog he was but he was big and friendly especially to me, a young man of no more than 3 or maybe 4. In 1951 he left farming and moved to the home on Denver Street in Salt Lake City.
In May, 1952, he and Grandma were invited to an interview in the temple and were called as temple workers. He was able to fulfill this calling for 27 years - until January 1979 when he fell and broke his hip.
We will all remember our Father, Grandfather and Great-grandfather as a warm and loving man. Years ago Grandpa and Grandma had a basket of toys for us to play with. My children knew where that basket was and loved to visit Great-grandpa and Great-grandma. He loved children and they loved him. His family now consists of 5 sons, 2 daughters, 28 grandchildren, 49 great-grandchildren and 1 great, great grandchild. We thank our Heavenly Father for the love of this good man.
James Lee Jackson - Oct, 30, 1980 (grandson)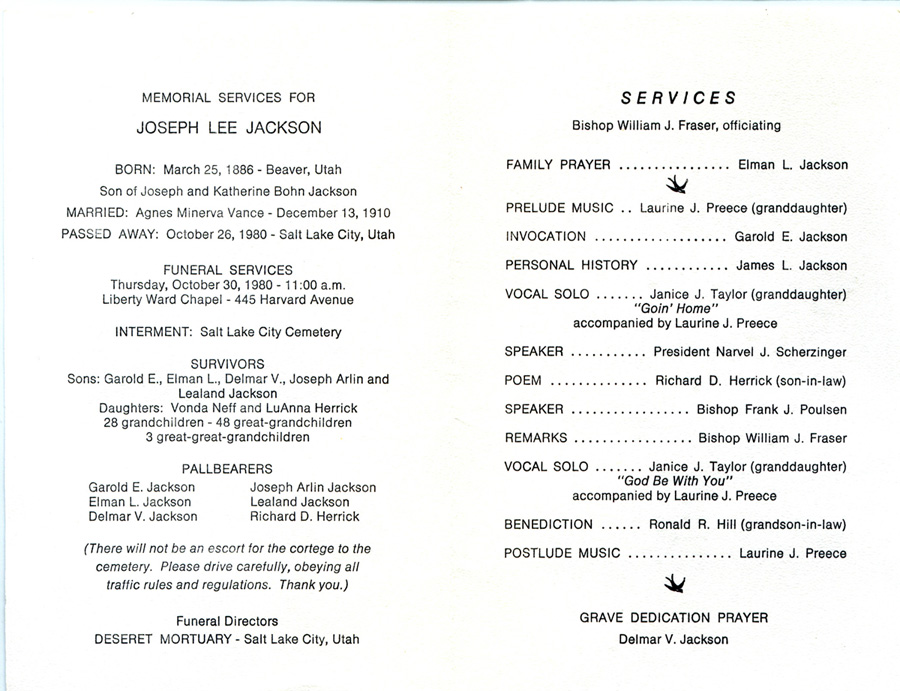 ---

This page and all of its contents is Copyright (C) 2013.