---








A Brief History of
PETER THOMANDER
1838‐1919
And His Two Wives & Their Families
By Rich Ware
2nd Great‐Grandson
July 20, 1992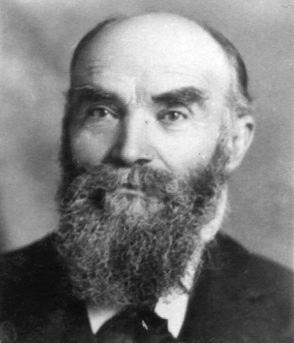 Peter Thomander was born April 17, 1838 in Lund, Malmohus, Sweden.(1) His mother was Matta Martha Persson (1812‐1880) but his father is unknown. On the Swedish birth record of Peter it states "father unknown" (Ltr from Luella Skola, May 5, 1981 to Richard Ware). However, the family story is that Martha worked for Johan Henric Thomander(2) as a maid and that perhaps Johan was Peter's father out of wedlock.
Johan Henric Thomander married Emelie Lovisa Katarina Meyer in 1834 and they had 3 children, born in 1834, 1837 and 1838. Emelie did not die until 15 Dec 1890 so it is unlikely that Johan, a strict Lutheran Pastor, would marry two women at the same time (Emelie and Martha Persson). Not only would his church not allow it, but neither would the laws of Sweden. It is also unlikely that Emelie and Johan were divorced so that he could marry Martha, as that would also run against his religious beliefs, and hurt his public image. Plus there does not appear to be any divorce document or information regarding a divorce. Therefore the conclusion that Luella Skola reached is still the most plausible. The fact that Peter's mother gave him the last name of Thomander and that she was probably a maid in Johan's home provides probable evidence that Johan was Peter's father. Luella states Peter was born out of wedlock.
A few years after Peter was born, Martha married Johannes Andersson in St. Petri Parish, Malmo, Malmohus, Sweden on May 10, 1844. Johannes adopted Peter into the family and while in Sweden they had 4 more children: John August, Johanna Maria, Anne Catharina and Emma. Before 1857, Johannes and Martha, along with their family, moved to Ephraim, Sanpete, Utah to live. Here in Utah, Johannes and Martha were baptized (April 17, 1857). Peter was baptized a few months later in the Endowment House on June 6, 1857.
Somewhere between 1858 and 1863, Peter Thomander married Ingaborg Trulsson, apparently in Ephraim, Utah.(3) Between 1864 and 1870 Peter and Ingaborg had four children: Edward Peter, born February 4, 1864; Martha Caroline, born June 12, 1866; Oscar Franklin, born January 7, 1868; and Daniel Theodore, born November 28, 1870. On September 19, 1870, shortly before the birth of their youngest son Daniel, Ingaborg and Peter went to the Endowment House in Salt Lake City, Utah where they were both endowed and sealed in marriage. None of the children, however, were sealed to them at this time. Daniel Thomander, who was born a month later, was born in the covenant.
Their marriage did not last long after their sealing. They divorced sometime prior to 1875. Shortly afterwards, Peter married Hannah Pearsson in Ephraim, Utah. After their wedding they moved to Hyrum, Cache, Utah where their first son, Oscar Hyrum Thomander was born.(4) A year or two later they moved to St. John, Malad, Idaho where Edna, their second child was born.(5) Shortly thereafter, they moved to Victor, Ravalli, Montana where they lived out their lives. Here in Victor, Montana their last three children were born: Arthur Chester, born April 28, 1881; Phoebe, born February 27, 1884; and May Marcella, born March 10, 1889. Phoebe passed away June 7, 1947. May Marcella married William David Blackie on Apr 15, 1924.
Peter died in Victor, Montana on December 21, 1919 and Hannah passed away May 9, 1921. On December 2, 1969, Peter Thomander was sealed to his step‐father Johannes Andersson and to his mother Martha Pearsson in the Salt Lake Temple.
Peter's first wife, Ingaborg, was apparently not willing to remain sealed to Peter. On March 30, 1889, the temple sealing between Peter and Ingaborg was dissolved by George Reynolds under the direction of President Wilford Woodruff. This action was apparently initiated by Ingaborg herself.
Sometime later, Ingaborg became acquainted with the Samuel Ruggles Aiken family, perhaps through the local ward, or perhaps through her son Daniel who was calling on their daughter, Sarah Aiken. Sarah and Daniel were later endowed and sealed on September 18, 1895, apparently in the Manti Temple. Sarah's father, Samuel, passed away a year later on December 15, 1896 in Spring City, Utah.
Ingaborg had apparently become sufficiently acquainted with Samuel to want to be sealed to him. So on July 2, 1903, Ingaborg went to the Manti temple and was sealed to the deceased Samuel Ruggles Aiken as his wife. The following year, on September 6, 1904, Ingaborg again went to the Manti temple with her children, Martha Caroline, Oscar and Daniel who were then sealed to her and to Samuel Ruggles Aiken as children. However, because Daniel had been born in the covenant to his natural parents (Ingaborg and Peter), his sealing to his mother and Samuel Ruggles Aiken was inappropriate and of no validity. (Ltr from Val Greenwood, Church Temple Department Special Services, dtd June 25, 1984.) But because the sealing between Ingaborg and Peter had been cancelled, and because Ingaborg had subsequently been sealed to Samuel, Daniel was included in Ingaborg's new family unit. Edward Peter, Ingaborg's oldest son, was later sealed to his mother and Samuel Ruggles Aiken in the Salt Lake Temple on June 15, 1981. This action was initiated by Luella A. Skola.
Footnotes:
(1) Endowment House Temple Records #5959, Book G, p. 201 gives his birthdate among other important dates. Return to Doc
(2) Johan was a very prominent man in the community. He served as a Bishop in the Lutheran Church as well as its
organist. There is a street and a university named after him and his home is located in one of the Swedish museums. At
one time he had over 3,000 books in his library and was a writer to some extent. Return to Doc
(3) Ingaborg was also known as Ingar Pehrsson. She was born June 9, 1840 in Husie, Ostra Skreflinge, Malmohus,
Sweden. Her father and mother were Truls Pehrsson and Karna Larsson. Although her parents did not immigrate to
Utah, Ingaborg did. Return to Doc
(4) Oscar was born October 26, 1876. He later married Ethel Semmens and died June 22, 1938. Return to Doc
(5) Edna was born January 16, 1879 and later married Jason Jared Jones on November 18, 1900. She passed away
January 23, 1954. Return to Doc
The history of his daughter, Martha Caroline Thomander Anderson, gives much greater detail to the early years of Peter and Ingaborg's life together. dlm
---

This page and all of its contents is Copyright (C) 2013.