In Remembrance
Life History of Agnes Minerva Vance (Jackson)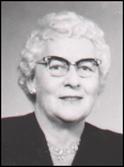 Agnes Minerva Vance Jackson was born the 12th of March, 1893 in St George, Utah, to Hannah Richardson (Vance) and William Perkins Vance. Some of the stories she told that her sons and daughters remember best are about her parents and grandparents and their coming to Utah. Her father and grandfather lived with Joseph Smith in Nauvoo for about six months. Later William Perkins Vance served as one of the scouts for the advance company of saints traveling with Brigham Young.
Her mother, Hannah Richardson was born in Epperstone, Nottinghamshire, England where her family joined the church. Soon after they sailed for the New World to join the saints as they moved west. Hannah afterward recounted that while on the ship, she turned eight and had the measles. Her father became very ill while aboard ship and it became necessary to tie him to his bunk. Hannah and her parents joined a handcart company and came west to be with the saints. Her father remained very ill and was carried by handcart most of the way. He passed away two days after reaching the Salt Lake Valley.
Grandmother was the youngest of the seven children born to William Perkins Vance and Hannah Richardson Vance. When she was seven her family moved to Lund, Nevada to help colonize a new Mormon community. During a visit several months ago, Grandma told my wife and I, of the little sod home they first had. She described it as whitewashed and cozy-warm in the winter and cool in the summer. When it was possible a nicer, wooden home was built but she said her mother always loved and almost preferred the little sod home that was their first home in Lund.
In Lund she met Joseph Lee Jackson of Beaver, Utah and on the 13th of December, 1910 they were married. Their first two children, Garold and Katheleen, were born in Lund. In her history Grandma records "Katheleen was a beautiful baby with a lot of dark hair . . . she lived only twelve hours."
Some things at the time were more difficult than now. When my father, Elman Lee, was born they lived on a ranch and went by wagon to Ely Nevada to get the help of a doctor. Dad was born the 7th of March, 1916 and the snow was still deep. Grandpa drove the wagon to Rearden's Ranch the first night and on to Lund the following day. There Grandma's brother, Joseph Vance, took them by sleigh and four horse team to Ely, Nevada.
In October, 1916 they moved to Utah, to a ranch called Rocky Ford, 13 miles west of Beaver. Here Vonda and Delmar Vance were born. In 1923 they also bought a house in Beaver where they lived in the winter so the children could go to school. Joseph Arlin, LuAnna, and Lealand completed their family of eight children. The family now numbers 7 living children, 28 grandchildren of eight children, 48 great-grandchildren, and 3 great-great-grandchildren.
Grandma enjoyed life on a ranch. Garold tells of a time in his early teens when he caught a large fish in the river which ran near their home on the ranch. The fish may have weighed as much as ten pounds. Not wanting to be caught it wrapped its self around a log or snag in the river. Garold called for help and Grandma, who was picking blueberries nearby ran to his aid. When she saw the situation she went right in after it. After several attempts to grab the fish she simply scooped it up with both arms and threw it on the bank.
In 1941 they left Beaver and moved to Lake View, near Provo, Utah where they bought a dairy farm. Ten years later, in 1951, they moved again, this time to the home on Denver Street in Salt Lake City, near Liberty Park. On the 16th of May 1952, Grandma was set apart as a temple ordinance worker. Grandma worked at the Salt Lake Temple for many years. On January 17, 1967, she was released due to illness.
Grandma was devoted to her family. I will always remember the beautiful handiwork she has done for so much of her life. And even up to the last month or two. Her beautiful crocheted baskets and doilies, the booties for the grandchildren and the great grandchildren. I'll remember the special treat of eating at Grandma's, her stone ground bread and muffins. The cookies that were always there and her homemade marshmallows and other candies. But most of all I will remember the warmth and the kindness and the service she gave her family for almost 87 years.
James Lee Jackson, Jan. 10, 1980